JUGO JUICE
WHERE HEALTHY &
GREAT TASTING MEET
JUGO JUICE is a brand that is passionately committed to healthy living, by creating delicious alternatives to mainstream fast food, led by our signature product – the smoothie! We have a great reputation and many loyal customers across Canada. People love our products, appreciate our commitment to quality, great taste, and health. They respect the brand, our franchisees, and employees.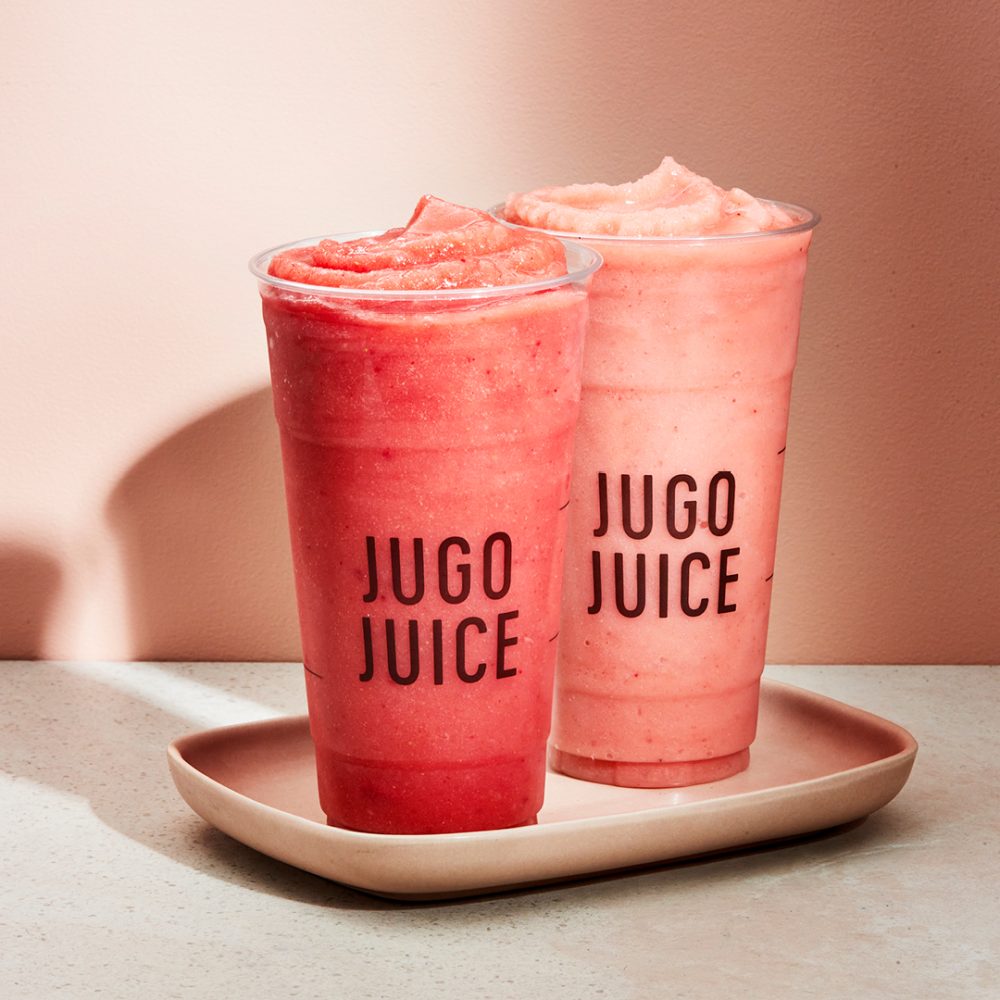 VOLUME BUYING POWER
Being among the more than 80 franchise brands under the umbrella of Canada's largest quick-service & casual dining food franchisor [MTY Food Group], JUGO JUICE benefits from MTY's volume buying power. MTY makes it simple for Jugo Juice to secure lower prices for its Franchise Partners by negotiating on their behalf for discounts and services from national vendors, allowing more time for Franchise Partner's to focus on building their business. Products are purchased directly from our approved suppliers and distributors.
*Other fees and deposits such as Security Deposits and leasing costs may apply. All costs are estimates and may differ based on the store size, site condition and other factors and are subject to change at any time.
By partnering with JUGO JUICE, you will have access to a team of marketing experts who are on top of the latest industry trends. In addition, they create local and national media campaigns, leverage event and property sponsorships and develop all the in-store point of sale material in your restaurant. Even before your restaurant opens, the JUGO JUICE team works with you to develop and execute a grand opening strategy.
JUGO JUICE offers an intensive 4-week training program teaching the skills necessary to become a successful JUGO JUICE Franchise Partner. You'll graduate with a comprehensive understanding of our healthy business. But we don't stop there! Our instructors teach our Franchise Partners skills in marketing, managing food and labor costs and maximizing profitability. The training program ensures that even individuals who do not have retail or restaurant experience will receive the tools. knowledge, and training to be successful.
The JUGO JUICE Support Office is a comprehensive system for the franchisee and their personnel. Each individual restaurant is supported by a District Manager [DM] who is responsible for approximately 20 restaurants. The DM acts as the liaison between franchisees and the Support Office. The District Managers are thoroughly trained and experienced in the Jugo Juice franchise system and continuously assist the Franchise Partner in building their business.
One of the primary reasons for JUGO JUICES' success is that the relationship between our Franchise Partners and the franchisor is essentially a "business partner" arrangement and deals with all issues on a one to one partnership basis. This allows for a quicker more efficient resolution to any challenges experienced by the franchisee. Our proven systems coupled with professional support lead to your continued success as a JUGO JUICE Franchise Partner.
Fun. Colorful. Welcoming. JUGO JUICE distinguishes itself from other concepts by setting a high standard for store ambiance. Our store design perfectly reflects our philosophy – a premium quality concept with innovate values and ideas, in an inviting environment.
WHAT DOES JUGO JUICE HAVE TO OFFER YOU?
A great tasting, premium product that's in the sweet spot of the consumer health and wellness trend
The opportunity to run your own business with the assistance of a knowledgeable group of professionals
Established brand and invested franchisees
Key organizational methods and clean operations
Benefit from MTY's volume buying power and lower prices allowing you to focus on business development
Negotiated supply agreements
Comprehensive 4-week training program
Knowledgeable field support team always available to help you build your business
Extensive site selection and lease negotiation expertise
Locations across the country in different types of venues
A well-known brand with a loyal and growing following
Effective and coordinated marketing and advertising support
Environmentally conscious brand aiming to reduce plastic usage
LIKED WHAT YOU READ?
We love this business and hope you will too! If you share a passion for crafting nutritious and delicious products and believe that you can brighten your customers' days, you're just who we are looking for! Ready to be a part of the health and wellness mega-trend?